Why join Toastmasters?
Learn to master public speaking, improve your presentation and facilitation skills. Meet people and make friends in a friendly, international atmosphere.
The Toastmasters program offers many benefits that help people in all walks of life. As a result of participating in Toastmasters, you will:
Increase your self-confidence
Improve your presentation skills
Become a better speaker
Communicate more effectively
Improve your English language skills
Become a better leader
Membership is affordable – and represents great value; change your life for less than a Euro a day.
Munich Toastmasters Club is the original English-language club in Munich. Please feel free to drop in and attend one of our meetings.
Guests are welcome to join. Please don't forget to bring a pen to give the speakers your personal feedback on our feedback forms.
Our club at a special meeting at Königsplatz in September 2016 and after a regular meeting in December 2016: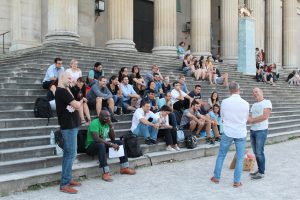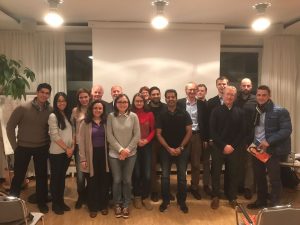 For more impressions of the Königsplatz event please click here: Munich Toastmasters @ Königsplatz
The next meetings will take place:
2 May 2017
16 May 2017
6 June 2017
We normally meet every 1st and 3rd Tuesday of the month at 7:00 p.m. The meetings generally last until 9 pm and take place at the Bayerische Krebsgesellschaft e.V., Nymphenburger Str. 21a, Munich (U-Bahn station Stiglmaierplatz-West)

Größere Kartenansicht
Guests are always welcome to visit our club evenings with no obligation, free of charge.

Why not visit our club, meet the members and see for yourself what the Toastmasters program offers you? Join us for an evening of fun with plenty of opportunities to practice your English-speaking skills. Please don't forget to bring a pen with you because we always provide feedback to the speakers.
Through attending Toastmasters clubs, members all over the world grow their communication and leadership skills and find the courage to change. In and around Munich you have the choice of several clubs: Club Overview Munich and surrounding Bavaria.
The Munich Toastmasters are one of the Toastmaster clubs in Division I, District 95. For Division and District level activities and announcements please visit the following sites:
Please do not hesitate to contact us for any further information.
Your Munich Toastmasters Club