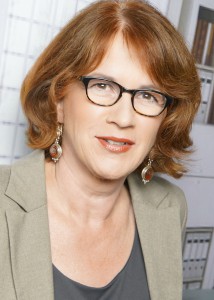 Gudrun Hoehne
VP Public Relations:  Responsible for advertising the club and bringing new members on board. Additionally, in charge of coordinating active public relations and publicity program
Joined Toastmasters in: Spring 2012 (German club Speaker's Corner), Fall 2014 (English club Munich Toastmasters)
Reason for joining TM:  To become even more professional when speaking in front of a large audience and when delivering training courses; to spread my word and listen to interesting stories; to improve my English speaking skills.
Profession: Intercultural and virtual leadership trainer / life coach
Hobbies: Toastmasters, reading, drawing (Acrylic), spending time with my friends, cinema, hiking, cycling, and my profession as self-employed trainer and coach
Nationality: German
Languages: German (native), English (fluent), French (fluent)
Lived in: Berlin, Paris, London, Cambridge, now Munich
What you should know about me: I love to work internationally and to see things from different angles. I am very glad to be in such a multicultural Toastmasters club as the Munich Toastmasters.