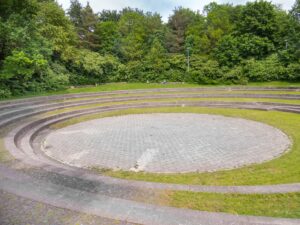 Do you want to learn how to better communicate in public, improve your presentation and facilitation skills? And in addition meet new people and make friends in a friendly, international atmosphere? Toastmasters offers many benefits that help you in all areas of life.
Over the past months, regular Toastmaster Meetings had to be shifted to online, however as Corona restrictions are slowly being lifted, we would like to invite you to a special "outdoor" summer meeting that will be held at the Theatron in the Ostpark on August 11, 2020 from 7:00 – 8:45 pm. Afterwards, you can join us for a chat, drink or a bite to eat at a nearby restaurant.
Important information:
– try to be there by 18:45
– wear a mask
– bring a pen to give the feedback to the speakers
– bring a mat if you are not comfortable sitting on grassy rocks
– insect repellant might be helpful
The full agenda of the meeting is available here:
https://tmclub.eu/view_meeting.php?t=150735
We look forward to meeting you!
Here are the highlights of this meeting: