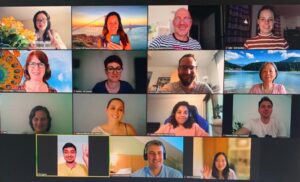 At the moment we are alternating between on-site and online meetings.

Please see our Upcoming Meetings page to know the meeting dates and whether the upcoming meeting will be on-site or online.
If you would like to join our online meeting, simply click on the link here.
Why join Toastmasters?
Learn to master public speaking, improve your presentation and facilitation skills. Meet people and make friends in a friendly, international atmosphere.
The Toastmasters program offers many benefits that help people in all walks of life. As a result of participating in Toastmasters, you will:
Improve your presentation skills
Become a better speaker
Overcome your stage fright
Communicate more effectively
Improve your English language skills
Become a better leader
Increase your self-confidence
Each one of these, is done by practising each time, during our regular Toastmaster meetings. Membership is affordable (less than one euro per day) and represents great value.
Munich Toastmasters Club is the original English-language club in Munich. Please feel free to drop in and attend some of our meetings as a guest – free of charge and without any obligation.
We currently meet every 1st Wednesday and every 3rd working Tuesday of the month at 19:15. The meeting on the 1st Wednesday of the month is an on-site meeting, which will take place at the EineWeltHaus (Schwanthalerstraße 80, 80336 Munich). The meeting on the 3rd Tuesday is an online-meeting, which is accessible via zoom (link provided above). The meetings generally last until 21:15 and take place online via zoom so you can participate from the comfort of your home.
Guests are always welcome to visit our club's meetings with no obligation and free of charge.

Through attending Toastmasters clubs, members all over the world grow their communication and leadership skills and find the courage to change. In and around Munich you have the choice of several clubs: Club Overview Munich and surrounding Bavaria.
The Munich Toastmasters are one of the Toastmaster clubs in Division D, District 95. For Division and District level activities and announcements please visit the following sites:
Your Munich Toastmasters Club