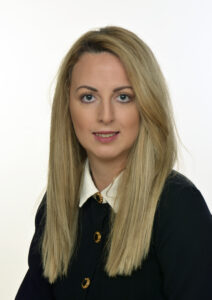 Name: Maja Perkovic
TM Sergeant-at-Arms: Responsible for maintaining club properties, arranging the meeting room and welcoming members and guests at each meeting. Also responsible for arranging the room and equipment (banner, evaluation forms, ballots, etc.) at least 10 minutes before the meeting begins.
Joined Toastmasters in: November 2022
Reason for joining TM: I joined with the aim of improving my communication and presentation skills.
Profession: Digital Transformation and Global E-commerce Leader (driving standard business transformation and accelerating online growth)

Hobbies: reading, traveling, sport
Nationality: Slovenian

Languages: Slovenian, Serbian, Croatian, English, German
Lived in: Slovenia, Germany
What you should know about me: I firmly believe that in life, anything is achievable through dedication, pursuing dreams, and persevering in efforts.